Our man John takes us back into the Time Tunnel and to a time when he shook the shackles of pop music for the experimental side of the coin and ended up seeing Captain Beefheart in Manchester in 1973.
In October, 1969, I reached the age of 14 – an age when, at least way back then, it was time to establish oneself amongst one's peers. I appreciate that, to younger readers, the age of 14 may seem an unbelievably late time by which to flex one's presence and that anybody who waited so long in the present age would sink without trace under the weight of peer derision. But, in 1969, things were different.
By the end of that year, The Beatles were on the verge of dissolution, Jimi Hendrix had already breached the UK and US singles charts, Woodstock, Monterey and the Second Isle of Wight Festivals had all happened, Charles Manson had led his Family's Bel Air killing spree and The Stones had used Altamont to demonstrate to the world how NOT to run a festival. That was a lot for a 14-year old to take in!
At the start of 1969, I was still slavishly watching Top of the Pops and listening to Alan Freeman's weekly chart run-down on Wonderful Radio One. My record-buying decisions were greatly influenced by what I saw and heard on these two not-to-be-missed weekly shows and, as the quality of popular music was generally pretty good, I am pleased to be able to report an almost total lack of embarrassment when I look back at the choices I made. Records I bought in 1969 (invariably singles – albums were, as yet, an impenetrable mystery) included Albatross, Man of the World, Oh Well, The Green Manalishi, Bad Moon Rising, Honky Tonk Women, Suspicious Minds and Canned Heat's Let's Work Together. Others in my class at school succumbed to the mind-numbing banality of The Archies' "Sugar Sugar" and the dreadful offerings from the likes of Lou Christie, Vanity Fare and the ubiquitous Cliff, but not me.
I was ready, therefore, by the end of 1969, to throw off my pop chart shackles and to venture into the unknown but highly intriguing world of "Weird" that lay within the gatefold sleeves of albums by bands never featured on Top of the Pops or on mainstream radio. I had the perfect guide; my mate Tish (still my best mate today, despite the passage of 50+ years and a separation of some 150 miles) had already cracked the code and was able to introduce me to such delights as the full suite of Jimi Hendrix albums, Tyrannosaurus Rex, the early Led Zeppelin and, as 1969 morphed into 1970, Black Sabbath, Family, Curved Air and Emerson, Lake and Palmer. We really felt we'd discovered the key to eternal satisfaction and we both happily (and somewhat smugly) joined the factions at our respective schools who stretched school restrictions on hair length to the absolute limit and who proudly stalked the school corridors with albums by Spooky Tooth or Ten Years After tucked under our arms.
Of course, having entered this magic world, it was important to stake and grow one's credibility in the best way possible. To declare a liking for an act or band which drew the scorn of an older aficionado was unthinkable – my enduring liking for Creedence Clearwater Revival took me perilously close to this precipice – and the safe way forward was to identify someone as obscure as possible, persevere to gain an understanding (and ultimately a liking) for their strange output and then announce your devotion.
During the early months of 1970, I started to attend a "Youth Club" (I was still 14, remember!) in Bolton, which was frequented by a posse of music fans who were significantly older than my friends and I; indeed, they would impressively pop out to a nearby pub during the course of most club evenings for refreshments that were unavailable at the Youth Club's soft drinks counter! It was at this this club where my attention was first drawn to albums such as "Disraeli Gears," "Ogden's Nut Gone Flake" and crucially, bearing in mind my quest for an impressively weird and obscure hero, "Safe as Milk" by Captain Beefheart. The track "Dropout Boogie" from the "Safe as Milk" album was a staple on the turntable at the club and I developed a deep admiration for the song and for the mad, jerky motions of the club members as they "freaked out" to the groove.
As weeks passed, I became more aware of the products on offer in the Captain Beefheart stable. A club member brought along an album resembling a wrapped parcel which, upon inspection, proved to be The Captain's second album, Strictly Personal, a collection which significantly out-weirded its predecessor. The Beefheart clincher, however, came when my mate Tish obtained, on loan, a copy of the majestic "Trout Mask Replica" album sometime in mid-1970. If we wanted "weird," it was here by the bucketful.
From the front and rear cover photographs, to the pictures of the individual band members, to the members' assumed names, to the song titles, the package was other-worldly. Tish and I would sit and pick out extracts from the album that appealed to our Pythonesque tastes; we loved the "Fast and Bulbous" references, marvelled at the depths of the Captain's voice on "Dachau Blues," sang along to the a cappella interludes of "The Dust Blows Forward and the Dust Blows Back" and "Well" and generally concentrated hard to understand what the whole thing was all about.
Eventually, I think we did make some sense of it; I liken "Trout Mask Replica" to a child's scribble that is then meticulously coloured in and carefully framed to present a coherent work of art. On the album, the Captain's poems, anecdotes and ramblings are read above a musical soundtrack that was originally random, but which has been carefully orchestrated, learned and recorded by a group of polished musicians and a highly capable producer (Frank Zappa).
Over the next couple of years, I honed my admiration of Captain Beefheart and the three albums that I've already mentioned (Safe as Milk, Strictly Personal and Trout Mask Replica) were given regular rotation at home, much to the concern and annoyance of my parents who, no doubt, concluded that I was either unhinged or "on drugs." I never thought for one moment that I would ever get to see this mythical being in person, but the opportunity to do so did arise when a 1973 tour to promote the new "Clear Spot" album was announced – The Captain was coming to Manchester!
The date and venue were set; Captain Beefheart and the Magic Band would perform at Manchester's Free Trade Hall on Thursday 5 April 1973 and, without too much trouble, my workmate Steve Sanders and I obtained our tickets.
We were unexpectedly amongst a minority of those converging upon the Free Trade Hall on the evening of 5 April, adorned as we were in our ex-RAF greatcoats, an article of clothing we both believed to be de-riguer throughout the "freak" scene. Instead, the more stylish of the metropolitan, sophisticated Mancunian followers of Beefheart were decked out in dapper Las Vegas jackets, as modelled by The Captain on the cover of the recent "Spotlight Kid" album. We felt SO out of place…! I recall that the merchandise available was limited to poster-sized black and white prints of the "Spotlight Kid" cover (I bought one, of course) and that, disappointingly, no concert programmes or tee shirts were offered for sale. But booklets and clothing weren't why we were there – we were going to SEE Captain Beefheart!
The support act were a band called Beckett, a six-piece hard rock band from Newcastle-upon-Tyne whose lineup included Tim Hinkley who later joined Chapman-Whitney Streetwalkers then went on to form his own band, Hinkley's Heroes, and enjoyed a stellar career as a session musician. I did see, and enjoy, Beckett on other occasions during the early 1970s – they were a regular feature on the era's college gig scene – but on the evening of 5 April 1973, their presence passed almost without notice – we were going to SEE Captain Beefheart!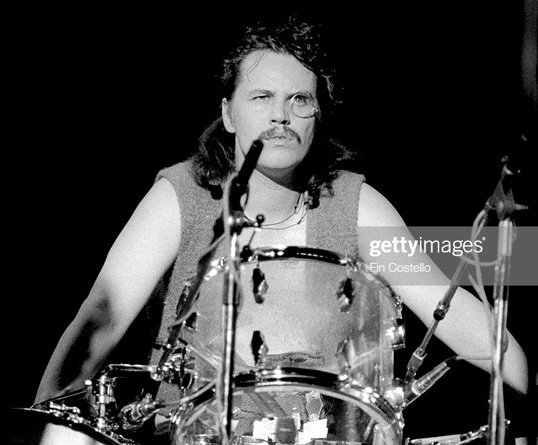 The Magic Band hit the stage after a short interval. Clad in silk and lycra, Rockette Morton, Zoot Horn Rolo and Alex St Clair Snouffer wove around the stage and around each other, presumably weaving a cat's cradle with their guitar leads at the same time (radio leads were still a future dream in 1973, even for the Magic Band) whilst Ed Marimba, wearing a monocle, beat out the rhythms on his transparent double bass-drum kit. After a few moments of mounting anticipation, the man himself appeared – we were in the presence of the mighty Captain Beefheart – and the band launched into a spine-tingling version of "Electricity," one of the classic "Safe as Milk" tracks. I was actually surprised by the number of songs that the band performed that evening that I was familiar with. As well as "Electricity," the "Safe as Milk" album was also represented by "Abba Zabba" and the setlist also included "Mirror Man," and two songs from the, by then, familiar "Spotlight Kid": Alice in Blunderland and "I'm Gonna Booglarize You, Baby."
Anyone familiar with Manchester's Free Trade Hall may be aware that when the venue became a concert hall in 1951, it was designed with acoustics appropriate to the staging of orchestral performances. Whilst probably suited to the needs of the Halle Orchestra et al, the hall was actually pretty useless as a venue for amplified rock music and the end product tended to sound like a meeting between a percussion band and a football crowd in a bathroom. The Captain noted the unconventional acoustics of the hall and bemoaned the fact that the deeper tones of his vocal delivery were getting lost in the hall's ceiling… "Take us to the ceiling!" yelled a member of the audience, and the Captain acquiesced – "OK – we'll take you to the ceiling!" he growled.
As The Captain introduced the band – to wild applause, particularly for Rockette Morton and Zoot Horn Rolo, both of whom were members of the "Trout Mask Replica" band lineup, he took exception to the comparatively muted appreciation offered to drummer Ed Marimba. "Ed Marimba is used to louder applause than that!" he exclaimed, as the insulted drummer left his kit and flounced off the stage. This, of course, spurred a standing ovation from the crowd during which Ed Marimba returned to the stage and to the microphone, where he proceeded to tear a piece of paper, whilst informing us that we "made him SO nervous…!" Wonderful controlled weirdness!
The band ended their set with "Big Eyed Beans From Venus," a song which, whilst it was new to us then, would become a great Magic Band classic. After a short ovation (and Steve and I were crammed in front of the stage by this point) the band returned for their single encore, "Golden Birdies," from the "Clear Spot" album. At the end of the song, the Captain offered the mic to the crowd and we obliged with cries of "Webcor, Webcor." And then they were gone…
By 5 April 1973, I was a seasoned gig-goer. My diary records that, already in 1973, I had been at gigs by Arthur Brown's Kingdom Come, The Sensational Alex Harvey Band, Led Zeppelin, Suzi Quatro, String Driven Thing, Humble Pie, Greenslade and Jo'burg Hawk. As the year progressed, I would see Heads, Hands and Feet, John Martyn, Brinsley Schwartz, Wings, Michael Chapman, Robin Trower, Pink Faries, Budgie, Judas Priest, Family, Lou Reed, Ten Years After, Genesis, The Edgar Broughton Band, Trapeze, Rory Gallagher and Donovan – and these were only the bands that visited Bolton or Manchester – I also attended gigs elsewhere. It certainly was a great era. However, the Beefheart show at the Free Trade Hall is, perhaps the event that eclipses all others; the one that sent the biggest shiver down my spine. I was 17 years old and the memory has never faded.
In early 1974, not long after the show at the Free Trade Hall, Captain Beefheart was signed by Virgin Records and, with the collaboration of his label, made an ill-advised thrust for pop stardom. Two albums, "Unconditionally Guaranteed" and "Bluejeans and Moonbeams" were released in 1974 to critical derision and minimal sales. The Magic Band sundered and, for a while, it appeared that Captain Beefheart had burned his boats. The commercial experiment was abandoned and 1978's "Shiny Beast (Bat Chain Puller)" was a blistering return to form. I did get to see Beefheart one more time – between "Bluejeans and Moonbeams" and "Shiny Beast" when he appeared with Winged Eel Fingerling, Ella Guru Davidson, Drumbo, Bruce "Fossil" Fowler and Jimmy Carl Black (The Indian of the Group) at the 1975 Knebworth Festival. It was a classic performance, laced with extracts from Trout Mask Replica, and studiously ignoring material from the first two Virgin albums. I'm glad I was there, but the overwhelming memory of my time in the Captain's presence is from 5th July, 1973, Free Trade Hall, Manchester.
Many thanks to John for another trip into the Time Tunnel. Did you see Captain Beefheart at any juncture? Let us know in the comments below.