Dauþuz (Germanic for 'death') recently released their latest album, Vom schwarzen Schmied (our review here). The duo, consisting of Aragonyth and Syderyth, have been releasing music together since 2016 and in that time they have been immensely prolific (just check their Bandcamp page). They use mining and its history in their native Germany and beyond as a source of inspiration to help create some of the best black metal within the genre.
We caught up with the Dauþuz prior to the release of their new album to discuss their influences, working as a duo, the state of black metal and more.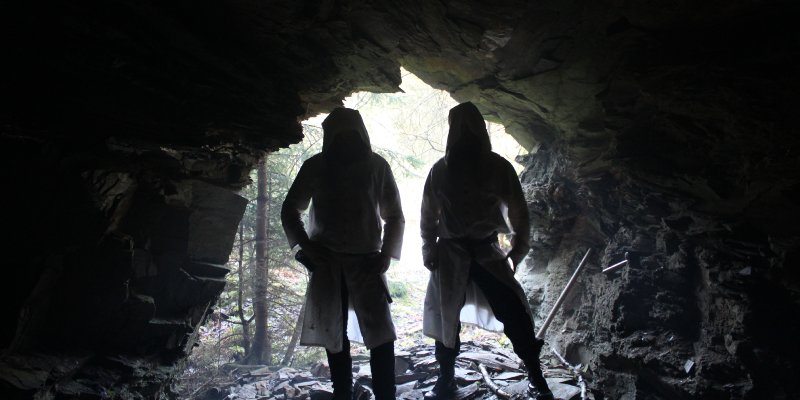 Hi. Thank you so much for taking the time chat to us!
Aragonyth: Hello and "Glück auf", thanks for having us.
You have been very prolific since your first release in 2016. Can you tell us about how the band was formed and how it came to be and how the band was named?
Aragonyth: Basically, the band was founded out of frustration, but also because of song material that didn't fit in with my other bands. Frustration because my other projects were always taking unnecessarily long breaks. That's why I decided without further hesitation to launch Dauþuz and to bring Syderyth on board, with whom I had already worked well and had worked on other projects. The name had been on my mind for a long time and simply fits a Black Metal band, both from the meaning and the "look".
What is it that draws you to write songs about the history of mining in Germany and Europe?
Syderyth: Since I was a child, I have always been interested in caves, bunkers and mines, and we even explored the sewage system. It's the hidden that appeals. But I became very interested in mining when I moved to Thuringia. Out of curiosity about my new home, I started researching and wrote a chronicle about the village. Mining plays a major role in the history of the village. The primitive mining of the past has left its traces everywhere in nature.
The more I looked into it, the more I was sure that this was a theme for black metal. Mining was sinister, destructive, mystical and deadly. And the history is full of interesting events. Our explorations of old mines are also a highlight. The loneliness, the silence, darkness and damp cold are very inspiring to create metal or even dark folk music from. I like to visit old mines myself, so it makes sense to write about German and European mining
Could you tell us a little bit more about the songs on the new album? Grubenfall 1727 was inspired by a particular disaster, are there any singular events that are brought to life on the new album?
Syderyth: One could indeed see the history of human development as a great catastrophe. For nature and the animals, it's a reality. Most of the old mining sagas are always a bit short for our songs, so at some point I just decided to write one myself. And "Der Bergschmied" from the previous album MONVMENTVM was the perfect basis for it.
The Bergschmied was one of the earliest miners who mined flint in Bavaria. The saga is partly based on real places and archaeological finds, as in this case. Basically, the story describes his career, how he died and was made immortal by a mountain spirit in order to introduce mining to mankind. Which he does over the millennia. However, he recognises the insatiable greed and wickedness of humanity and turns his back on them. He finally gives them an ore with which they eventually destroy themselves. Uraninite.
The song "Sargdeckel" ("Coffin lid") has a threefold meaning here. The coffin lid is a miner's term for a large rock that breaks loose from a mine ceiling and kills the miner underneath. Like the last nuclear war of mankind, which also eventually slays itself with it. While the miner has retreated to his lonely mountain and protects nature and the animals there. This part of the legend is inspired by the legend of "Rübezahl", who also lives on a mountain in the Giant Mountains in the Czech Republic. Since the mountain blacksmith is immortal on earth, he hopes for redemption one day when the earth perishes in the fire of the sun. So there are some real as well as mythical helpers at the birth of the story, plus a sharp pinch of misanthropy.
How is it working as a duo on Dauþuz? There must be plenty of positives to having a small setup? Have your recording techniques changed in your time together as Dauþuz?
Aragonyth: That is exactly what makes it so comfortable as a duo. Both Syderyth and I work very determinedly and uncompromisingly, without wasting much time. That's why we can look back on quite an extensive discography after a good five years. We always record the same way, each with our own home studio equipment. We both have the opportunity to make music 24/7 and that's perfect.
Your artwork is very striking. Who does the artwork? Are the pieces produced for the albums, or are they older pieces?
Aragonyth: Yes and no. On releases like "In finstrer Teufe" or "Des Zwerges Fluch" we work with old engravings, on "MONVMENTVM", "Grubenfall 1727" or the album "Vom schwarzen Schmied" we work with artists who have explicitly drawn for us. Usually this is a good friend called Mäxxenwerk or more recently Markasyth. We give him a free hand, so to speak, and are always rewarded for it!
Dauþuz feel quite unique in terms of their lyrical and thematic content. Do you know of any other bands that have this unique take on their music?
Aragonyth: Not fully, like we do. Of course there are occasional songs about mining, but as far as we know there are no other bands as conceptual as us.
Are there any events from mining history that you are seeking to write about in the future?
Syderyth: There is already a specific real story for the upcoming release that we will probably use. There is a lot that is worth writing about in our eyes. Maybe we will do an album about modern mining history… I think the next 5 years are secured.
Would you ever move into more realms of history for your content?
Syderyth: I think we are already very deep in the historical material. Every time I walk my dogs, I discover new relics, as there is a lot of historical mining in my area. In addition, I have a lot of access to historical lore at my work. We also visit and hike old mines, or as they say in miners' terms, "drive in" all over Germany. Our illustrator (speaker and guest singer) Markasyth even works in an old mine himself as a tour guide. So it may well happen one day that we will disappear into the dark depths of old tunnels and the mountain spirit will take us forever… haha!
Do you think Dauþuz would play live?
Aragonyth: We don't want to rule it out, but there are still some hurdles to overcome before we could or would play live.
Black metal has a storied history from its beginning in the 80's to the infamy of the 90's Norwegian scene and such. There are bands still flying the flag for the genre. How do you see black metal as a genre in 2021?
Aragonyth: Black metal is more diverse than ever in 2021. On the one hand, of course, this is a good thing, because hardly any (metal) genre is as variable as black metal, but of course (as everywhere) there is also a lot of rubbish. You have to cherry-pick, but in the end you always end up with the old classics.
Our thanks goes to Dauþuz for taking the time to talk to us. We are very appreciative.
Listen to Bergschmied VIII: Sargdekel from Dauþuz latest album, Vom schwarzen Schmied, below.
You can follow At The Barrier on Twitter here, and like us on Facebook here. We really appreciate your support.