Seuras Og takes in the delights of Wickham Festival, even if he did get a little bit wet! A great weekend of music in the face of adversity and treacherous conditions.
It has taken me a week to near recover from my experience at Wickham Festival, the first big(gish) festival of the season, played out as an experiment for SAGE. Worth every second of the elegant chaos that ensued, whereby it just about held together and stayed up and running, it was a a challenge equally for the organisers and for the attendees, either side of the stages.
A thousand congratulations and thanks must be offered to Peter Chegwyn and his indefatigable team of staff, employed and volunteers alike, for electing to make a show of it, as with all stacked up against them, success against the odds.
The odds?
Well, even before the start came the sinking realisation that the brand new stage, resplendent at the top of the field, was not quite the one that had been ordered. Too small, too frail, and, once the weather had started its onslaught, not only was realisation sinking in, so too was the stage. In mud. Touch and go for the Thursday kick-off, it was hoped it might be safe for Friday, then Saturday, ahead of realising its only use was as a a landmark. Hence a reshuffling of all the performers down amongst the smaller four stages. Inevitably this meant some alterations in the times and running orders, with some initial confusion as to who might be where and when. Oh, and did I mention the weather?
Rain fell like no tomorrow, which, given much was overnight, had many fear there may really not be one. A quagmire akin to the Somme was the result, and the camping area demonstrated, as Ted might say to Ralph, a 'problem with the drainage in the lower field'. The festival found straw from every farmyard in Hampshire to try and soak up the seepage, sometimes winning, often not. Tractors were dragging cars into the parking area, let alone out and the shops in Wickham village were selling brollies and boots by the truckload. Were we downhearted? In truth, at times, a little, but the joy of live music soon put paid to any displeasure.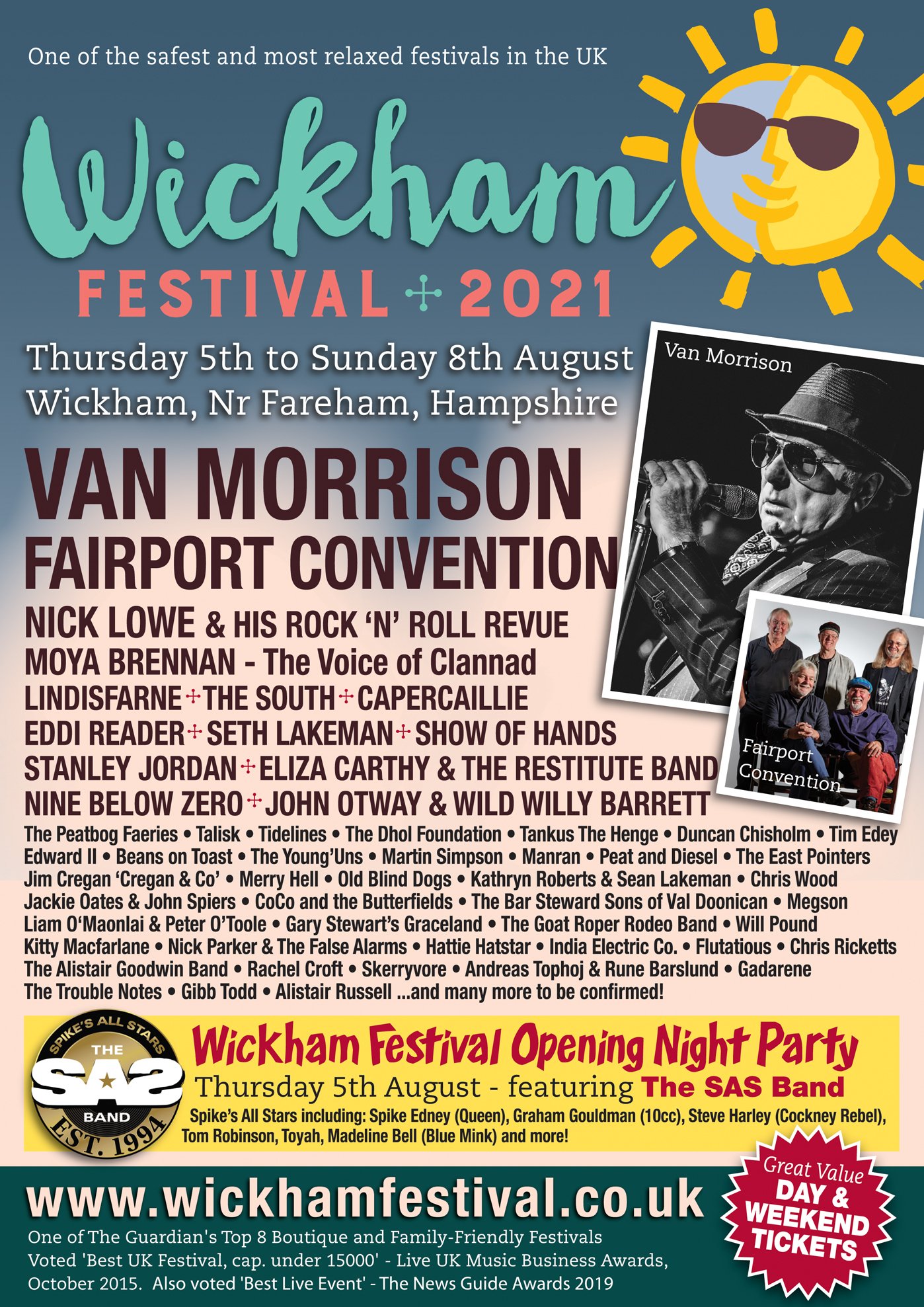 I had arrived on the Thursday, and it was still quite bright, the field I camped in then still grassy. The main arena was huge, double the previous, to allow some degree of distancing. Like Australia, the stages, the stalls and the concessions were all around the edges, bar a thin spine upward, if you will, from halfway between Perth and Adelaide. The functional default main stage, a big top, was somewhere near the top of Queensland, whilst the de facto second stage, Quay West, was where Darwin might be. If both marquees, worry not Covideers, both were largely open to the elements at the side, with much more circulating fresh air than any of the night clubs currently open. Also remember, the demographic of the Wickham Festival audience, mostly…um…mature, double vaxxed in the main, bar the odd grandchild and some, perhaps, of the performers. I felt safe and folk had been also asked to show proof or fax or a negative lateral flow.
Thursday music started for me with Tide Lines, the young western highland and island guitar band who take the "bagpipe guitars" of Big Country a step further, the lead guitarist swapping his guitar, at the end, for actual pipes. The second time I have caught them, they have developed into a solid act who can mix strong Hebridean melodies with a sterling backbeat of guitars, bass and drums, with that special extra added ingredient for added authenticity, pleasing both the indie kids and the folkies.
Complete contrast then, as, with time to kill, I went to check out the other stage, where Tankus The Henge were in full throttle. Silly me had always assumed them to be bog standard landfill indie and I could not have been more wrong, as they enthralled me. Like a crazy mix of Steely Dan and Southside Johnny, their brassy N'Awlins funk on steroids, and with the frontman a sweaty whirlwind of attention deficit disorder, jumping on and off his piano, to which on one hand, almost impossibly seemed ever also able to be playing, they are a revelation. I won't make the mistake of missing the beginning again.
Still coasting on that high, it was back to the big top for the ever reliable Peatbog Faeries, who, if anything, seemed to have tightened up during their enforced absence from touring. The township guitar of Tom Salter now just as integral as the pipes and whistles of Peter Morrison and Ross Couper's fiddle. This relatively new fiddler to their ranks, at least since I last saw them, bedding in very nicely, his joust with the other lead instrumentalists as entertaining visually as aurally. Terrific. Happy man home to tent.
It rained all night.
Friday saw me throw away my sandals. They had not survived the swamp. Thanks be, the wife had said I should take some spares, and my goodness, was I glad of my boots, even if I had bought but one pair of socks. I started with a dose of Kathryn Roberts and Sean Lakeman. I must admit to a strange and unfounded prejudice against the brothers Lakeman, much as, when exposed, I actually enjoy their music.
Roberts I haven't heard since her debut duo LP with Kate Rusby, a favourite still in my house. I am pleased to report her voice has matured, a big voice all those years ago, she has grown into a greater control of it, and it is a marvellous instrument. Their songs of Dartmoor a pleasure to listen to, with her keyboards and his guitar a perfect setting for her singing.
Next came the new to me; Gadarene, who had me totally engaged. Their modern take on centuries old dance music inventive and invigorating. Striking me as a peculiarly English equivalent of the Peatbogs, perhaps the Millpond Sprites? The frontline of flute, fiddle and mandolin was lively, not least when the otherwise sedentary Matt Norman, the mandolinist, leapt up and clog danced on the box he was sitting in. I bought their CD, 'Butchers of Bristol' and commend you do likewise.
A bit footloose after this, I gadded between snippets of Gary Stewarts 'Graceland', a competent facsimile of Paul Simon's of the same name and dipped into the main stage offerings. Talisk, if I'm honest, impress me more than endear me, it's all being a bit too look at me, with Eddi Reader and Capercaillie being all a bit old hat, however fine that millinery was and still is. Reader was great to be fair; all Weegie fishwife by demeanour, her voice undimmed, with the reassuring presence of Boo Hewerdine by her side, with one of the biggest fuck off beards seen all weekend. 'Perfect', inevitably, still gets the biggest cheer, but an impromptu, i.e. well rehearsed, tribute to Amy Winehouse was an unexpected treat. I could only give Capercaillie a short burst as I had an important rendezvous at Quay West.
This was possibly the English debut of Peat and Diesel, the unlikely trio of lads from Stornoway who have taken the Western Isles to the forefront of "Peatlemania". As the son of a Hebridean, I love these guys and they did not disappoint. Bemused, I think, by a tent full of Sassenachs bellowing along all the words of their Anglo-Gaelic songs, they rattled though all their hits, an ungainly mix of Jimmy Shands with AC/DC, with corncrake vocals. Singer, guitarist and songwriter, Boydie, kept confusing his setlist with a hefty Stornoway black pudding, to the consternation of Innes the box-player, who was trying vaingloriously to keep him in check. A terrific set and, you know, that really is how they do it in the Western Isles. It was a shame they had to be followed by Manran. At any other time, this consummate band of, yes, more Scottish west coast Gaelic rockers, would have stolen any crown, particularly with the addition of new singer, Kim Carnie, alongside the pipes, highland and uillean, accordion, fiddle and guitars they tote, backed by a muscular rhythm section. Gary Innes' band just get better and better and were great, just not after Peat and Diesel.
Saturday had a late start, as there was a full english needing eating, the Square Ox in Wickham proving just the ticket.
I had been told by the editor here to catch the The Young 'Uns as a point of principle, if not employment. Ubiquitous as they have been at folk festivals over these past few years, I had always let them go over my head and under my radar. Making myself listen, I came away with a new respect. Always feeling them to be dyed in the wool trad. arr., it was gratifying to see and hear them singing modern broadsheet ballads about current people and current events; their song about a local man with a mission to feed the homeless and hungry, 'Ghafoor's Bus' a belter in that tradition.
From there it was another new to me treat, namely the Alistair Goodwin Band. Seemingly world famous in Hampshire, they offered an astonishing mix of 60's psychedelia, a la Third Ear Band, with a touch of classic 70's rock, yet remain nominally acoustic. Nominally, that is, bar the remarkable electric cello of Nigel Rippon, who flays his instrument within an inch of its life, squeezing squalls of sound out, alongside gentle swathes of bowed strings Meanwhile Goodwin sings, a mash-up of Robert Plant and Jackie Leven.
Wow. Only mid-afternoon and I'm reeling.
What could bring me down to earth?
Luckily Martin Simpson; his soothing competency and mastery of the guitar, was there, with a good set of favourites and newbies, including a bevy from his lockdown, largely covers, album, 'Home Recordings'. His version of John Prine's 'Angel From Montgomery' a treat on the record is achingly good live.
From there it was who to catch and who to avoid. I heard catches of Moya 'Clannad' Brennan's set as I wandered the field checking out the concessions. The harp was the strongest element, and she could have done with the added vocals of the Brennan brothers. I had wanted to hear Nick Lowe with the Straitjackets to see how they might embellish his wry songs, but they didn't show. It was otherwise the same set I had seen at Blenheim Palace a year or two back.
And then the question of Van Morrison. Yup, seen him good, seen him bad, and, I confess, I don't much like his COVID views, and so had decided to boycott him. (That'll learn him!) But straying past the tent, with the now huge video screens outside, damn me if he wasn't nailing it. His voice on top form, and the set much the greatest hits he has recently deigned to tout around, he was on top form. Sure, no talking, no rapport, but that what he is.
Muttering, off I went, to fulfil my prejudice, and see Eliza Carthy and Merry Hell instead. Eliza was Eliza, but I was lagging; it seemed a bit too Brecht and Weill in style, even if the songs came from all quarters. Nice to see and hear Saul Rose still in the fold, mind.
Closing that stage this night were Merry Hell, a band I have wanted to catch live. By and large they did not disappoint, their strident anthems of solidarity even earthier in the flesh, Andrew Kettles vocals perfect, with Neil McCartney's fiddle permasoaring above all the rest of the clatter. The audience in their hand, Virginia Kettle's brand of whimsical song had the audience singing and swaying along. Good enough for me, as I waded slowly back to my tent, the sounds of Deacon Blue's encore across the field washing over my head.
It rained more in the night, as it had much of the day.
Sunday had me confined to the big top most of the day. Skerryvore had pulled, courtesy of COVID, removing the penultimate source of bagpipes from the day, which was a shame, but made life easier from the point of who to choose and who to lose.
Will Pound opened the day with a bang, his 'A Day Will Come' project and band on stage. Provoked by the coming of Brexit, this is a cycle of dance tunes sourced from all over the EU, played consummately by Pound and his band, along with spoken word interpolations by Bogdan, a poet based in Birmingham, by way of Poland; his poems switching, mid line, between Polski and Brum. If a little annoying on record, live they were perfect spaces between the energetic volleys of harmonica, melodeon, fiddle, exquisite double bass. Oh, and there were bagpipes, but of the English border variety, played by the remarkable Jude Rees, who also took a blow on soprano sax, oboe and clarinet.
That set me up nicely for another band I had been keenly awaiting. Old Blind Dogs have been around for aeons, champions of east coast Scottish song and music. Founder Jonny Hardie, fiddle and vocals, has kept the ship afloat as other members have come and gone, but now has the band of his life. Aaron Jones, on bouzouki and vocals, has been on board awhile but it is with percussionist Donald Hay, yes, the Donald Hay, Scottish drummer supreme and stalwart of the Transatlantic Sessions, and Ali Hutton, the bear of the bagpipes, that this band has become transformed. Hutton, the burly bearded pipes and whistle dynamo from Treacherous Orchestra and numerous other involvements with schoolfriend and fellow TO piper Ross Ainslie, is a powerhouse. He fills his body with air, before pushing it all into the pipes, it always seeming an expectation that either he or the bladder may at any time burst. Somehow they don't and he propels the music ever upward, faster and lower. Glorious, glorious. A terrific set. Follow that…if you can.
Duncan Chisholm can. The erstwhile Wolfstone fiddle player now having a vast solo repertoire of instrumental airs, jigs and reels, calling also the cream of the Scottish instrumental scene. to his side. A stupendous set, the calm after the storm of the Dogs. Innes Watson on guitar, a young piano player I didn't catch the name of, Donald Hay, again, and, best of all, the mighty Jarlath Henderson, a token Scot these days, on uillean pipes, together complementing Chisholm's fiddle with aplomb. Henderson, a contributor to Chisholm's last recording, 'Sandwood', had several opportunities to stretch out and seized the opportunity. How could this day get better?
A day so good, I need to broach a new paragraph, it was down to the old school to close proceedings.
I had never caught Lindisfarne, either in their heyday or in the various iterations over the years. Now under the helm of bassist, Rod Clements, the only original member left in the band, he looked impossibly frail as they each set up their own instruments. But looks are deceiving, the minute they cracked into 'All Fall Down' I knew it was going be fine. Dave Hull-Denholm, actually the son-in-law of Alan Hull, channels the vocal timbre of Hull exquisitely, and through the endeavours of the rest of the band, you seriously don't (much) miss the absent originals. All the familiar songs come, reminding how huge they were in their prime. To see the aging greybeards in the audience, all singing gleefully along, often with tears rolling down their cheeks, was wonderful. Hell, I was one of them: Lady Eleanor, Fog on the Tyne, all of them and more. I was transported to my youth, meeting myself on the corner just as they sang that very song. Bliss.
Surely even Fairport Convention, last minute replacements for the Waterboys, stuck in various countries due to travel restrictions, couldn't top that?
Now, I have given up saying I won't bother with Fairport again, over the forty five years I have been going to see them, because I always end up going again. And they always, live at least, surprise me. This night, believe me, they were great. Relying a little less on their quieter and gentler newer material than usual, Simon Nicol was playing more electric and cosmic Ric was back; I feel that Ric Sanders has been a little side-lined in recent years.
With songs spanning their entire existence, a special joy was a mini-set of Full House favourites, this having been intended to be the centre-piece of this years cancelled Cropredy. Sloth reminded how great Nicol is a guitarist, if under the shadow of gods like Thompson and Donohue. He played the RT solo note perfectly, but on acoustic, pins and jaws dropping across the tentspace. Other highlight included a reprise of 'Honour and Praise', from their 1984 recalibration, a song I have always loved. Of course there were all the usual jiggery pokery, even if Peggy has to sit down to get around the speed and stamina required for Dirty Linen. All too soon it was 'Matty Groves', the banjo led iteration, before the inevitable call to arms, the always deeply moving chorale of 'Meet On The Ledge'. By golly, the old buggers cracked it!
It rained all night. Packing up was a messy and mucky chore. But I went home happy, even if I hadn't even made it to Show of Hands and EII, both bands I would normally break a leg to see. That's the rub of conflicting stages and times. Peter Chegwyn had done us proud. Never having been to this festival before, despite all the inclement, would I come again? Hell yeah! I've already bought an early bird for 2022!
You can buy early bird tickets for Wickham Festival 2022 here.
Wickham Festival: Website / Twitter / Facebook
You can follow At The Barrier on Twitter here, and like us on Facebook here. We really appreciate your support.